Get Your Message Out There...In Style!
At Sheree's Shirt Shack, we are dedicated to delivering advertising & messaging solutions to help you promote your business by making it more visible.

Custom imprinting of clothing and gift items has long been a "big city-only" service. Sheree's Shirt Shack is locally-based in the Cariboo.
We are fully equipped to produce custom screenprint and embroidered apparel and hats, in-house. Services include custom logo design and in-house digitizing.

We Can Help Your Business
With Image & Identification Builders
Company Uniforms
Employee Recognition Programs
Promotional Items & Reselling
Sports Teams, Clubs, & other organizations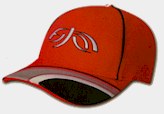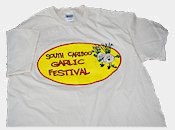 We have experience in producing items in volume for events such as the
South Cariboo Garlic Festival
. We encourage you to call us if your organization is planning an event!
Custom Garments:
The BEST WAY to
PROMOTE Your BUSINESS?
Think About It.
A t-shirt, jacket, or cap will last
much
longer than a one-time printed ad or a 30 second radio message. The better the design, the more it will be worn & displayed in public. It is literally a
walking billboard
that will be seen in many different places, many times over.
If enough people wear your advertisement, you end up with what is known as a "Brand Army." It doesn't get any better than that!
If you want your business to be remembered by customers, a custom garment is one of the best ways to get the job done.
Advertising is totally unnecessary.
Unless you hope to make money.
- Jef I. Richards
Many a small thing has been made large by the right kind of advertising.
- Mark Twain
Creative without strategy is called 'art.' Creative with strategy is called 'advertising.'
- Jef I. Richards
Doing business without advertising is like winking at a girl in the dark. You know what you are doing, but nobody else does.
- New York Herald-Tribune
October 30, 1956